If you're the kind of sleeper who likes that extra bounce then a pocket sprung mattress is perfect for you.
Pocket spring mattresses are constructed using individual pocket springs which respond and contour to your body shape, offering maximum support and comfort.
Mattress Size:
Single: 90*90*28 cm
Double: 135*190*28 cm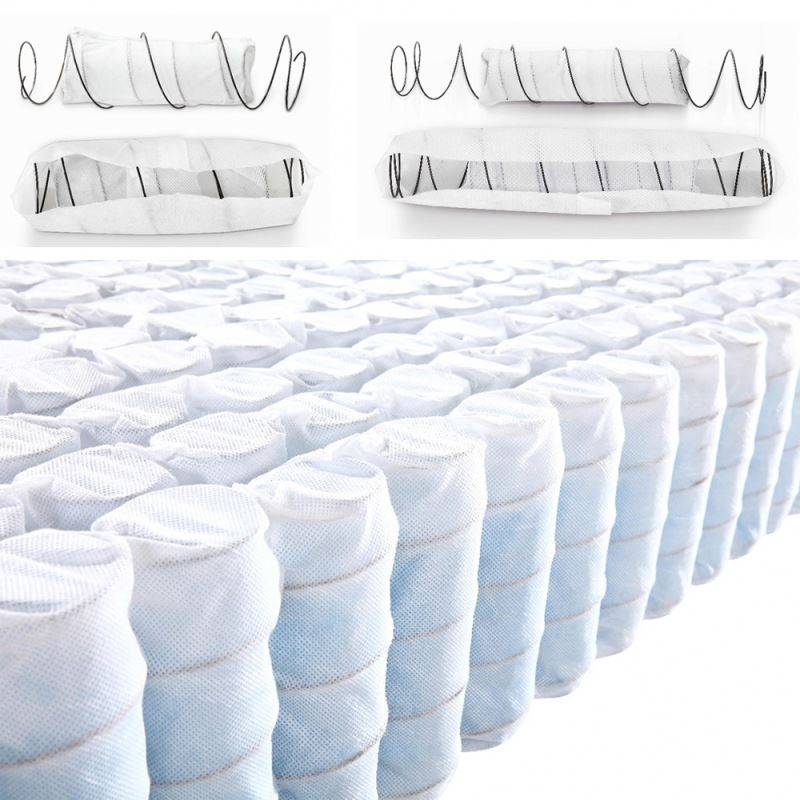 Temperature Control. The cool gel factor combined with the open-structure high-elastic memory foam, disperses heat from your body while relieve the pressure, adjusts the sleep temperature overnight to achieve a cool fresh summer or a fluffy warm winter.

Gel technology combines scientifically-distributed pocket spring technology and high-quality 3D breathable fiber fabric, creates an antibacterial, anti-mite, moisture-proof, pressure-release pocket spring mattress. Make the summer cool and fresh, the winter warm and not dry.

The independent barrel-type spring offers good support to spinal, 7-zones orthopaedic ergonomic design provides uniform support for your head, shoulders, waist, hips and legs, keeps the spine balanced, helps adjust and correct your sleep posture, relieves muscle tension, reduces back pain. The design of pocket greatly adapts and supports each unique body, provides exercise separation, absorbs motion from your partner, allows you to sleep well all night.

Homylink is always committed to giving you a good night's sleep. We do not want the damaged mattress to affect your sleep quality.However, if this happened, we will be more than happy to help talk you through the next steps to get your a great night's sleep back.Any claims under the 100 days guarantee must be made within 100 days from the date of delivery.
100-Day Warranty At Homylink. We stand behind our products and provide a 100-day warranty on our mattresses.In each case, the warranty begins on the date of purchase ("Warranty"). Please retain a copy of "Return Registration Card" as proof of purchase.
*Please contact us as soon as possible after completing the form, and attach evidence of the defect as well, whether it is via Amazon or Email.* You may be required to provide us with proof of purchase and evidence of the defect. You may also be required to return the defective Product to us (but, provided the defect is indeed covered by the warranty, we will reimburse any returns costs you incur).
Life changing mattress!
So I've suffered with back problems for years! And got recommended this by a family member. I can honestly say this is the best ever investment for comfort And balance etc - since buying this I've had no back pain whatsoever Anyone looking for a mattress needs to buy this one! You will not regret it
Pine cooling gel memory foam pocket sprung mattress
Single pine cooling gel memory foam mattress
I've always avoided memory foam mattresses as I don't like how hot they are. I have started struggling with aches and pains however so I did want the comfort of memory foam. So far this mattress has been brilliant. It arrived within a week of ordering it and it's really comfortable to sleep on. It's firm but not rock solid, which suits me and it doesn't over-heat. I love the way it transforms itself once it's out of the box too. I would highly recommend this mattress.
Great Service for a lovely mattress
Great Service for a lovely mattress. Only had a couple of weeks, and has halved my night-time sweats. Am sleeping better too, and don't wake up aching. Mattress came on time - significantly cheaper than on Amazon!!
The Best Mattress Ever
I received this mattress in 2 days and it was so well packed and such a heavy package when it arrives.
It is vacuum packed and be careful when you open it and use care, especially if you are using a knife as you do not want to cut the mattress.
Once the box is open you will see inside a cellophane wrapped and vacuum sealed package. Again, be careful when you open it and unwrap it. Once unwrapped it will expand to it's full mattress and it is magical really to watch this happen. It is the 21st century of course and packages like this are becoming quite normal.
Well, once opened and expanded to full capacity I put it on my bed and left it to air for a while before I tried it out.
Oh my word!! it was so comfortable to lay on and it was in my own opinion the best mattress I have ever had.
I cannot understand why the seller has not sold more of these.
This is a must if you suffer from a bad back and it really is super comfy.
It is top quality too and if I had seen this in a shop and tried it out in a shop I would have thought it was a very very expensive mattress. In fact I would have paid twice as much for this as I wasn't sure how comfy it was going to be.
I have tried many mattresses in the past and my last one was a full memory foam mattress but after a few months it made a hollow in the middle where by bum was :-)
The price of this is amazing too and I never expected anything this good for the price.
It's not as hard as some of the orthopaedic beds and really they are quite soft and I am a big person and it just seems to mold to my body and I sink into it.
Really it is a super duper comfy mattress and I cannot stress enough how good it is. Not only is it comfy but the thickness of it is sure better than I had ever imagined.
It makes a good trampoline for my grandsons too as it is really springy.
I fully recommend these and I am thinking of buying another just to keep for spare. They will store well as they are vacuum packed and do not take up much room to store.
...
Let's start your sweet dream!