If you're the kind of sleeper who likes that extra bounce then a pocket sprung mattress is perfect for you.
Pocket spring mattresses are constructed using individual pocket springs which respond and contour to your body shape, offering maximum support and comfort.
High quality pocket spring, which considered to be the best coil support system working to evenly distribute your weight while aligning all parts of your body, can effectively absorb the noise and vibration caused by tossing and turning when sleeping.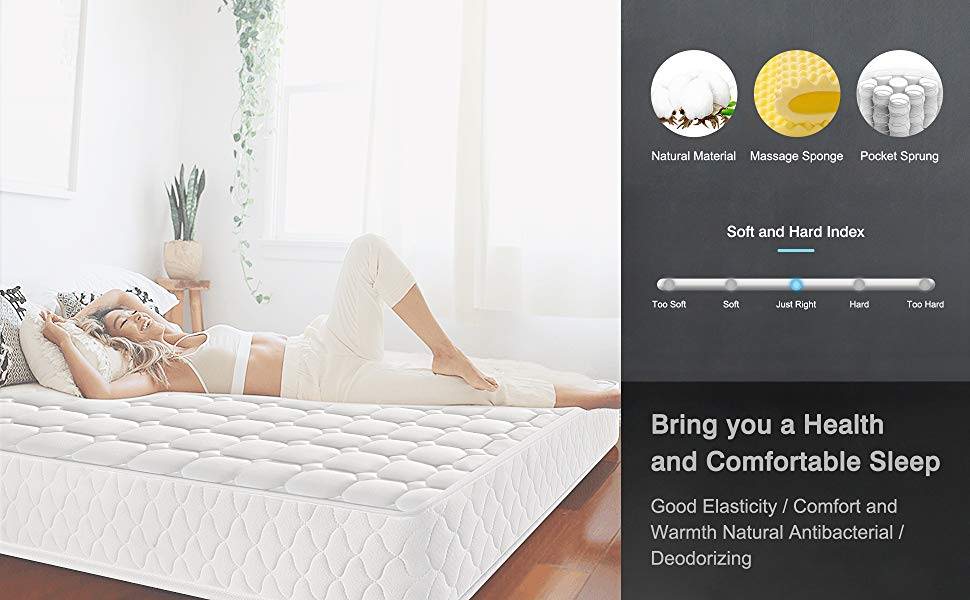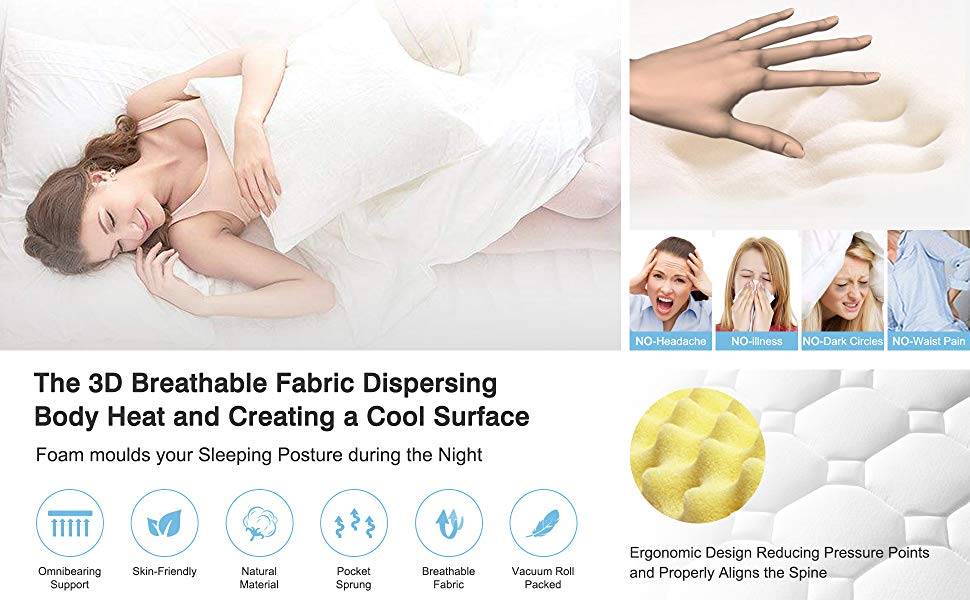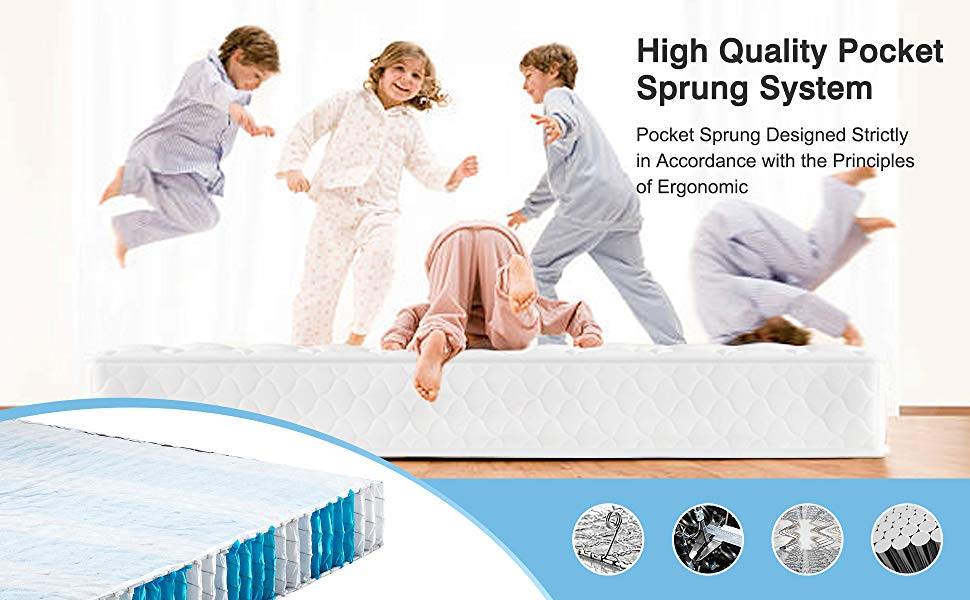 Homylink is always committed to giving you a good night's sleep. We do not want the damaged mattress to affect your sleep quality.
However, if this happened, we will be more than happy to help talk you through the next steps to get your a great night's sleep back.

Any claims under the 100 days guarantee must be made within 100 days from the date of delivery.

100-Day Warranty At Homylink. We stand behind our products and provide a 100-day warranty on our mattresses.

In each case, the warranty begins on the date of purchase ("Warranty"). Please retain a copy of "Return Registration Card" as proof of purchase.

*Please contact us as soon as possible after completing the form, and attach evidence of the defect as well, whether it is via Amazon or Email.

* You may be required to provide us with proof of purchase and evidence of the defect. You may also be required to return the defective Product to us (but, provided the defect is indeed covered by the warranty, we will reimburse any returns costs you incur).

GILIA Breathable Knitting Fabric Memory Foam Pocket Sprung Mattresses
Great med/firm value for money mattress
First impressions are not good when it's opened however give it 24 hours and it regains shape and comfort . Great medium to firm mattress . No chemical odour as described in other reviews . Would recommend for price .
Sleep comfortably mattress
"This is the future of Matress Sales
I bought this for a spare bed for my son when he visits. It came as advertised; wrapped quite well. It was fun to watch it expand. I gave it a 5.0 star rating
I asked if my son slept ok and he says it is comfortable. I will be sleeping on it this week so if I don't agree, I will add to this review.
It does sleep comfortably. I have slept on this mattress two nights now and it is very comfortable; it does not sag.I love this mattress and for the money value, would buy again."
Comfortable Night Sleep - At Last !
I've had my current mattress for a number of years and it had started to sag a little and I was waking up with a sore back. I decided to go for this particular mattress as it was memory foam and at a very competitive price.
I wasn't sure where I was going to put it when it was delivered as I was expecting a full size mattress, but it comes packaged in a small box. It is vacuum packed and rolled into the box. It is rolled with the air sucked out of it for transport. It arrives in a smaller box , although heavy was very easy to accept the delivery. It was delivered in just a few days too which was great.
The mattress is very well made and once put onto the bed frame and opened, it soon filled with air. I left it for a few hours to make sure it had fully expanded before making the bed. It did say to leave it for 24 hours, but I was a little too eager to get my bed made ready to sleep in that evening.
I was hoping for a firm mattress which was still soft and I am very satisfied with this. It meets my requirements perfectly. When I lay down on the bed it is very comfortable and supportive. Since changing over to this mattress I am no longer waking up with a bad back which is fantastic.
It has pockets of air and is evenly spread for a comfortable sleep.
I've now had the mattress for around 2 weeks and I am very happy with it. I would highly recommend it to others. It is a great mattress for a great price.
Great mattress for the money
Read all the reviews for mattresses around this price point and after 3 weeks of sleeping on this mattress the results have been very good. Lower back pain has gone, me and my wife can fall sleep for almost an entire night and wake in the exact same position, it's a medium-firm feel, we genuinely now look forward to going bed at night. We have added a quilted mattress protector which has added a slight addition of comfort/luxury along with some really comfy fitted sheets and duvet cover which of course is helping to achieve great results but overall this mattress is fantastic value for the money, very pleased and felt inclined to write this review so it hopefully helps you guys reading this.
Let's start your sweet dream!