Contact us 24 hours a day,
Star your sweet life right now







Wow wow wow
This is my 3rd different matress in 2 years .. two of them were memory foam and we're not good at all ... I researched for awhile trying to find what I wanted .. I took a chance buying this and I'm delighted ... It's perfect .. not hard not soft ... Little bit of spring to it so really really comfortable ... I'm a happy happy person ... Highly recommend matress .. I hope it last 😁😁😁
Good Mattress
Like so many mattresses these days, it was delivered vacuumed packed and rolled up. Once unpacked it quickly settled to it's correct profile. Very comfortable - firm but not hard. Happy with the mattress.
It arrived promptly. So far the mattress is performing ...
It arrived promptly. So far the mattress is performing well, but I have noticed that it is beginning to sag in the middle, although it has not been uncomfortable yet. I suspect it will sag a lot more in the future.
Excellent quality stylish mattress
Wow what can I say apart from I wish I'd bought this months ago. Comes nicely packaged just remove from the box lay on the base in the vacuum packed bag and cut open the plastic. It takes a few minutes to fully expand into shape. Excellent quality with a nice firm texture not too hard but comfortably firm. So much better than my previous pocket sprung mattress and I had my best sleep in years. Excellent product
Wow
Excellent mattress but was surprised how it came in but amazed how firm it is because I have a spinal problem. and it's very hard to get a nice mattress like this for that price it's well worth the money for you guys to buy it recommended for back problems brilliant.
Memory foam molds to the body in response to heat and pressure, evenly distributing body weight. It then returns to its original shape once you remove the pressure.
Relief & Not affect:
Since memory foam conforms to the curves of your body, it does allow for pressure point relief, which is especially helpful for those who sleep on their side.
About Orthopaedic Pocket Sprung Mattress:
Orthopedic mattress has the function of body orthosis. It is designed according to ergonomic principles which distributes the pressure of the human body according to the various parts of the human spine, fully conforms to the curve and movement of the human body, automatically adjusts the bad sleeping position, relaxes the spine and restores the cervical vertebrae.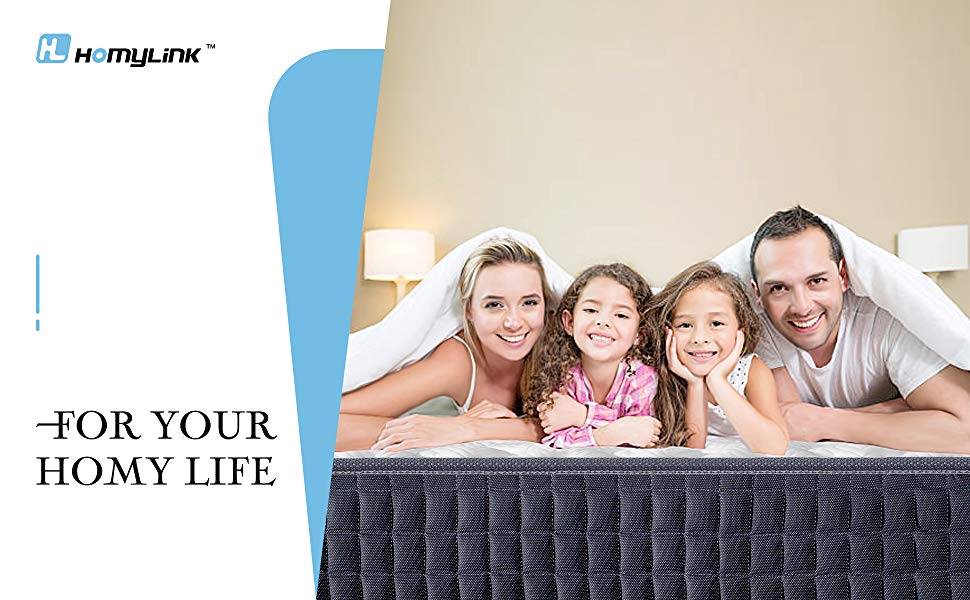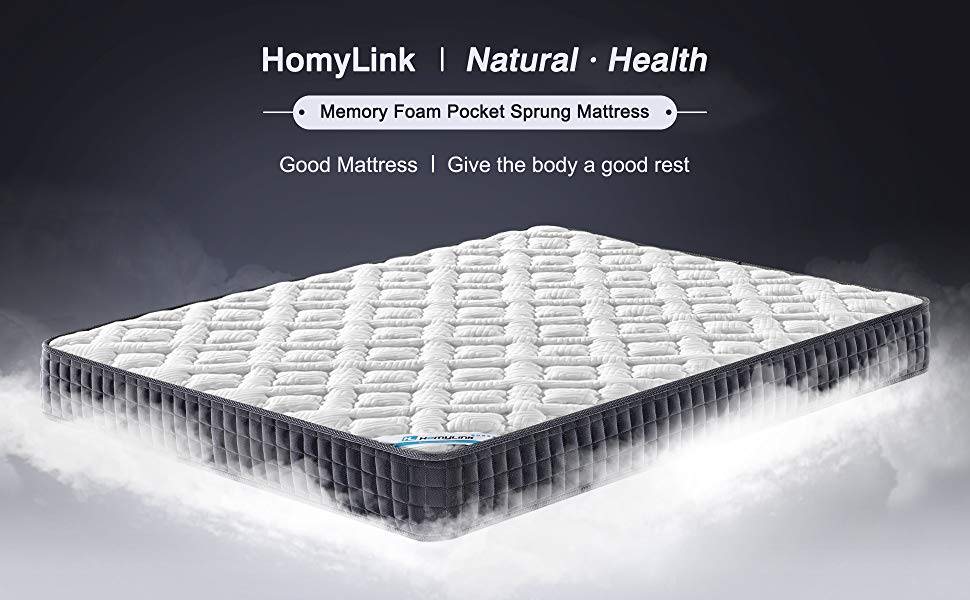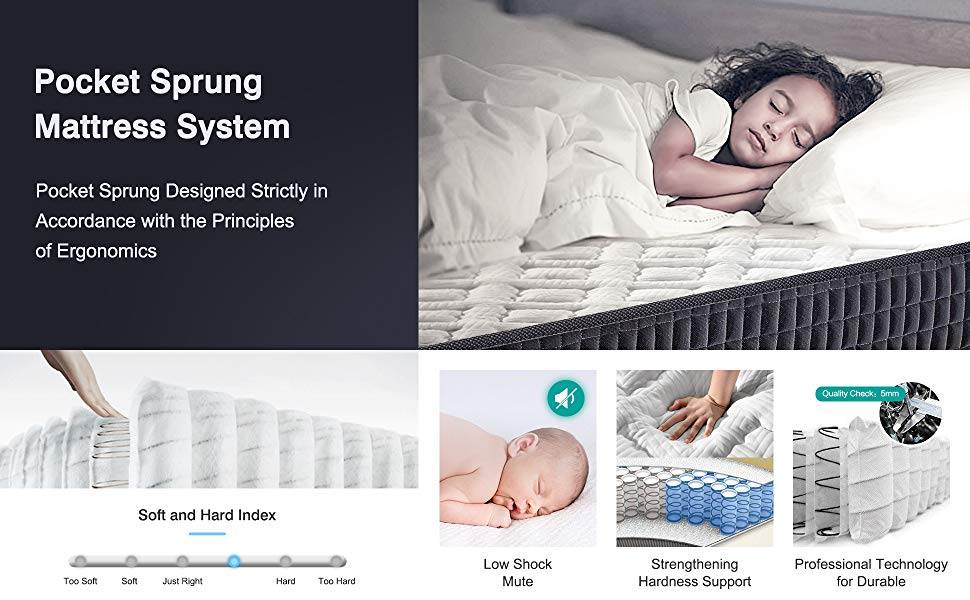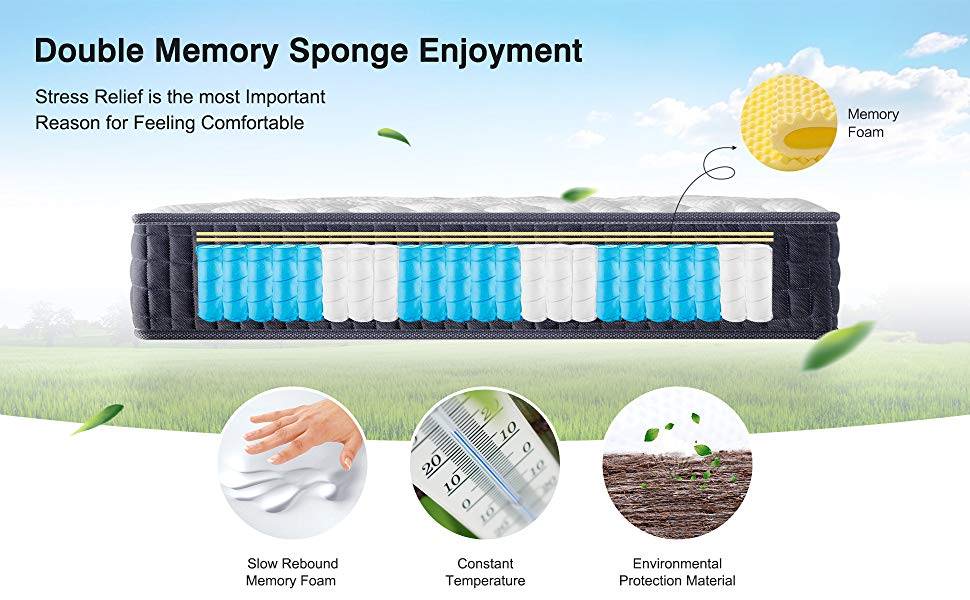 Homylink is always committed to giving you a good night's sleep. We do not want the damaged mattress to affect your sleep quality.
However, if this happened, we will be more than happy to help talk you through the next steps to get your a great night's sleep back.

Any claims under the 90 days guarantee must be made within 90 days from the date of delivery.

90-Day Warranty At Homylink. We stand behind our products and provide a 90-day warranty on our mattresses.

In each case, the warranty begins on the date of purchase ("Warranty"). Please retain a copy of "Return Registration Card" as proof of purchase.

*Please contact us as soon as possible after completing the form, and attach evidence of the defect as well, whether it is via Amazon or Email.

* You may be required to provide us with proof of purchase and evidence of the defect. You may also be required to return the defective Product to us (but, provided the defect is indeed covered by the warranty, we will reimburse any returns costs you incur).

Let's start your sweet dream!