200L x 150W x 23.5T centimetres
Item firmness description
Pocket Sprung + Memory Foam
upc:788601133449


COMFORTABLE MEMORY FOAM:
Memory foam molds to the body in response to heat and pressure, evenly distributing body weight. It then returns to its original shape once you remove the pressure.

Relief & Not affect:

Since memory foam conforms to the curves of your body, it does allow for pressure point relief, which is especially helpful for those who sleep on their side.
ABOUT ORTHOPAEDIC POCKET SPRUNG MATTRESS:
Orthopedic mattress has the function of body orthosis. It is designed according to ergonomic principles which distributes the pressure of the human body according to the various parts of the human spine, fully conforms to the curve and movement of the human body, automatically adjusts the bad sleeping position, relaxes the spine and restores the cervical vertebrae.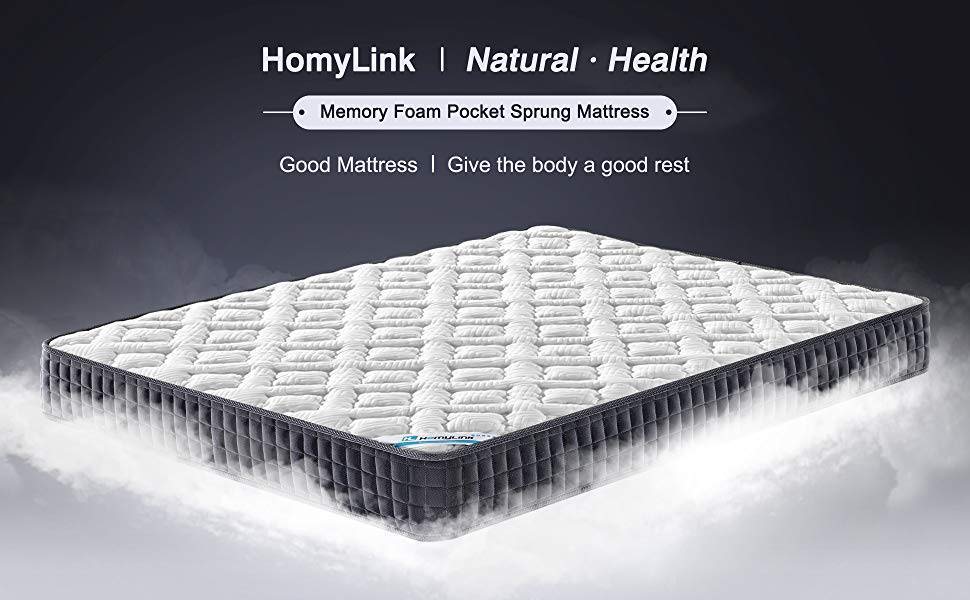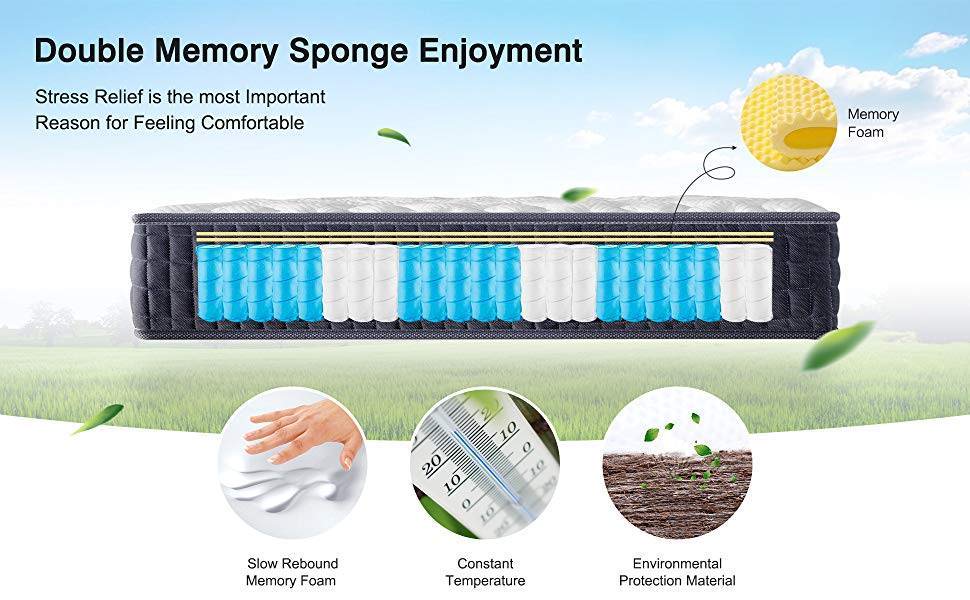 Homylink is always committed to giving you a good night's sleep. We do not want the damaged mattress to affect your sleep quality.
However, if this happened, we will be more than happy to help talk you through the next steps to get your a great night's sleep back.

Any claims under the 100 days guarantee must be made within 100 days from the date of delivery.
100-Day Warranty At Homylink. We stand behind our products and provide a 100-day warranty on our mattresses.

In each case, the warranty begins on the date of purchase ("Warranty"). Please retain a copy of "Return Registration Card" as proof of purchase.
*Please contact us as soon as possible after completing the form, and attach evidence of the defect as well, whether it is via Amazon or Email.

* You may be required to provide us with proof of purchase and evidence of the defect. You may also be required to return the defective Product to us (but, provided the defect is indeed covered by the warranty, we will reimburse any returns costs you incur).
Amazing mattress
I have 3 of these in our accommodation now as the first experience was super, Great quality, great structure, super nights sleep as I prefer a firmer surface for sleep health.
Theres no need to buy expensive orthopaedic mattresses anymore, my previous mattress cost 1600 and is now 2700 but this one is amazing and superb value for the same sleep.
????
Not soft
My partner has low back problems and likes the the mattress firm ..for me firm is too firm so when I have ordered this I was afraid he wont like it but we slept very good since then ( almost 1y ago ) , and haven't woke up with any problems. You dnt sink in very much which is great for us . Before you change the mattress read a lot about every single one on your list cause if you change from a type of mattress to another you might feel discomfort as it might be a shock for your spinal ,bones etc. You might think is a joke but is not . Always choose the mattress based on the previous one ( bads and gods) , your weight and the thickness of a mattress. Very heavy to carry and make sure you follow the instructions when you open it and use it for the fist time . Happy customer
Get wot you pay for
Not as comfortable as hoping for
Sleeptastic
It was as I expected smooth sleep inducing and very comfortabule
Love it
So comfortable, soft but still firm. I sleep sooo much better now!
Rest Easy With These Garantees
100-night, risk-free trial*
We give you 100 nights to try it on us. Don't love it? You can return it to our warehouse. After receiving the goods, we will immediately apply for a full refund service for you.

All orders are free shipping.

3-months limited warranty*
Long-lasting mattresses stay
comfortable and supportive over time.