UK Mattress Size
In the UK, bed sizes are measured according to the size of the mattress they hold, which is a standard measurement. However, the actual dimensions of the bed frames can vary according to their shape and style, which is what can often cause confusion.
A common mistake is to use the mattress size measurements for the required space, but you should always look at individual bed frame dimensions for exact measurements, as they will vary from frame to frame, and almost always be slightly larger than the mattress dimensions.
UK Manufacturers, produce their mattresses in Metric units (centimetres and metres) as a standard.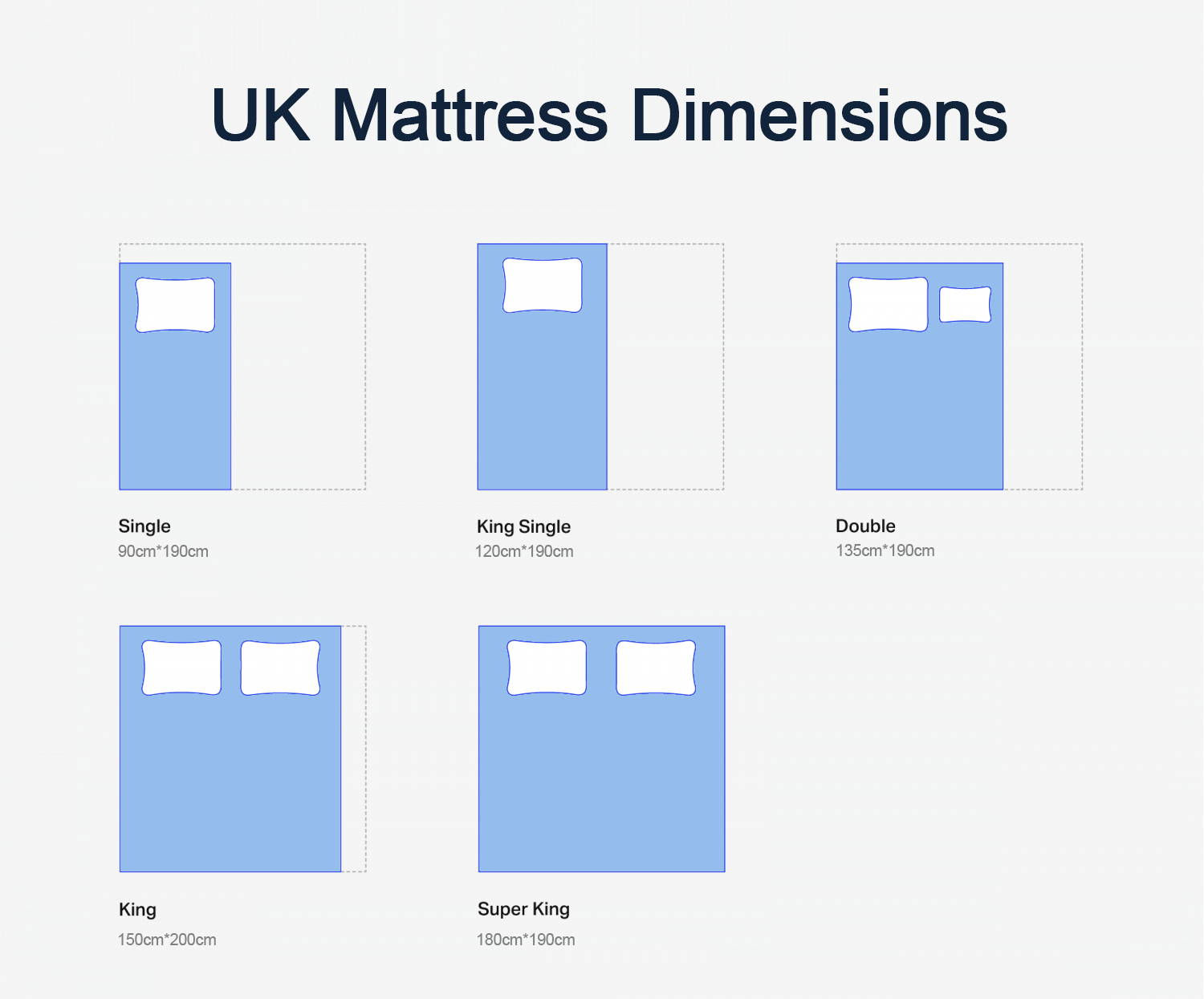 Imperial (ft/in)

Metric (cm)

Mattress Size

Mattress Width

Mattress Length

Mattress Width

Mattress Length

Small Single Mattress

2 feet 6 inches

6 feet 3 inches

75 cm

190 cm

Single Mattress

3 feet

6 feet 3 inches

90 cm

190 cm

Small Double Mattress

4 feet

6 feet 3 inches

120 cm

190 cm

Double Mattress

4 feet 6 inches

6 feet 3 inches

135 cm

190 cm

King Size Mattress

5 feet

6 feet 6 inches

150 cm

200 cm

Super King Size Mattress

6 feet

6 feet 6 inches

180 cm

200 cm
Homylink Mattress Choose:
GILIAPOCKET SPRUNG MATTRESS

Suitable for customers who want to have a more supportive mattress.The stress of each section of the human body is different when lying in bed, and the GILIA's separate pocket spring design allows the body to evenly support different parts of the body, providing a scientific release of stress. Many customers report feeling held up on GILIA mattresses and waking up feeling refreshed rather than tired.
DAYLILYPILLOW TOP SPRUNG MATTRESS

Popular with customers who prefer softer mattresses. The surface of the mattress is made up of a soft, pillow-like surface with multiple layers of special sponges, including an Massage convoluted wave foam, and separate pocket springs to provide support. Customers who like it praise it for a night of immersion and deep sleep.
BLACKTREEMEMORY FOAM MATTRESS

Superior quality double-layer memory foam with multi-layer exclusive sponge layer and independent spring mattress. One layer of memory foam can effectively relieve the body pressure, while the other layer can remember the shape of the extended spine and its shape, so that the body can also enjoy the care of the ergonomically designed mattress in the night sleep. Customers who use it say sleeping on the mattress feels like a deep body rest and relaxation from the inside out.
PINEGEL MEMORY FOAM SPRUNG MATTRESS

It is suitable for those perfectionists who want a mattress with outstanding performance. This mattress brings together many of the best features of the mattress. The unique gel upper layer can reduce the heat released by the body and avoid the accumulation of sweat. Multi-functional sponges with special memory sponges to help the spine stretch; Separate pocket spring pockets provide solid support for the body spine. Lowering the surface temperature helps the blood circulate, helps the body fall into a deep sleep, and the multiple layers of softness and support allow the body to relieve stress. Anyone sleep on the PINE would wake up everyday like a brand new day.